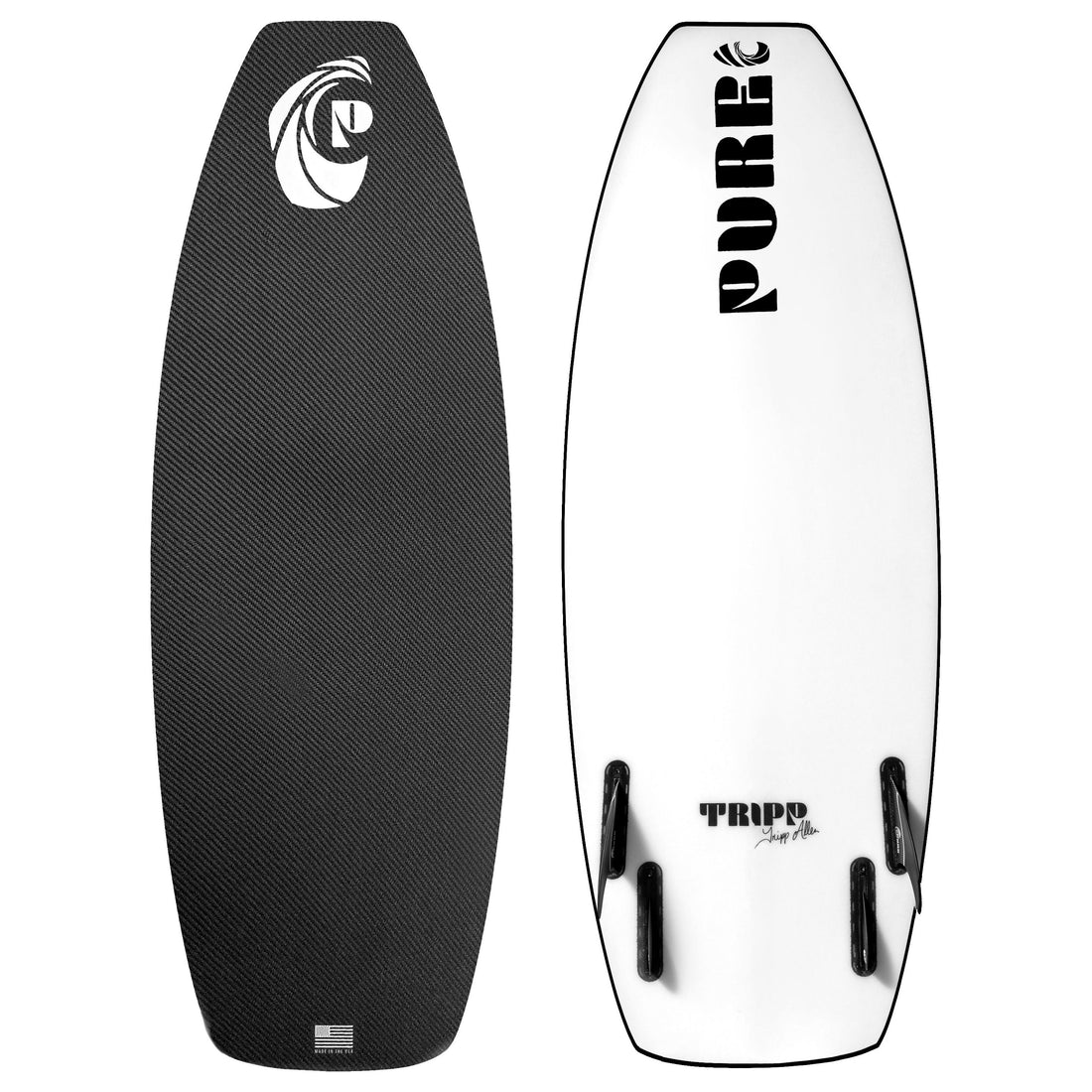 This is where things get crazy! You've seen these on podiums all season and now we are releasing it to you. 
All of the attributes of the Tripp that you know and love…. ON Adrenaline. Our Pure proprietary aerospace Carbon top, stringerless EPS core, and E-glass bottom is a recipe for performance and pop! The carbon gives a stiffer deck and the stringerless core with clear bottom give twice the rebound rate as the standard fiberglass boards.  As you drive down the line and load up the wave for that air, the board still flexes but a much faster rebound rate giving it more pop.  

There is a lot more going on under the carbon than meets the eye. We have added more performance enhancements into the material and under the hood. This forward advancement in wakesurfing technology will take your riding to new boundaries. Our expert team of shapers have been crafting for decades and we are constantly in R&D mode.  Most companies outsource their carbon work but not here. We bring to life EVERY single board under our own roof. We pride ourselves in being the first to bring  PURE Carbon FX to the wakesurfing market and the technology has been proven this season podium after podium.

If you are looking for the next level in performance enhancement with industry breaking technology, stiffer deck for responsiveness and more pop, the PURE Carbon FX series can't be passed.  

*All PURE Carbon FX Series board come with Traction and High Performance Fins.

If you are looking to ride revert, air 180's, shuvs and quick 360's - you will find the PURE Tripp Signature board for you. 
This board features a blunt nose, sharp to soft rails and a single concave hull running the full length of the board. This gives you that control, lift, and ease of tracking in riding revert. You will also see this one in competition under Tripp Allen's feet. This is Tripp Allen's Signature Model.

If you have seen Tripp Allen throw down, you know what kind of demands he has from a high performance board. The PURE Tripp is designed for the all around board for whatever trick you throw at it.  This board has a blunt nose and squash tail. The slightly rounded edges on the tail act as a pair of release points for the water flowing off the tail of the board that allows for quick, sharp turns.  The blunt nose adds more surface area for riding revert, giving you stability for tracking and more displacement.

We aren't hiding any details. Our boards (unless painted) are all finished clear so you can see every detail in the core and stringer.  You will see the hand-sanded, super finish strokes when looking down the deck and hull.  We take pride in every step and don't settle for less.

If you don't see a size you need or you would like a custom color or design, email us at info@purewakesurf.com.

Boxes: Futures – Can be rode as a twin fin or quad set-up.

Rocker Design: Moderate

Core & Materials: EPS core with classic wood stringer (black/natural/black) to combine ocean to wake. Includes S-Glass for superior strength, lighter weight and instant board feedback.

Sizes: 4'4 – 5'0

Fins & Traction: Board Traction & High performance Pure Wakesurf specific 3D specialty fins included.